Professional Makeup Workshops & Mini-Courses
These intensive workshops are a great way to learn more about a specific area of Make-Up or Special Effects, while having a lot of fun!
Students will learn professional makeup techniques from Alan Ostrander, a 20+ year makeup veteran, and members the AEO Team of Professional Artists.

Classes are "hands-on" and cost includes all materials/kit as outlined under each class section.
All students will recieve a certificate of attending for each specific workshop.
Smaller class size ensures adequate one-on-one practical instruction
Classes listed below are held at our Orlando Studio located in the
Orlando Business Center – East Orlando
Contact us today for more information or to reserve your space now!!! 407-677-8706
We also offer individual tutorials, as well as guest lecture/workshop onsite demos.
Please contact us for details.

Zombies, Demon and Monsters.... Oh My!

(aka Zombie Boot Camp)
Learn the art of being a Zombie – or your favorite monster – from makeup to wardrobe to acting like one. Materials provided, but if you have clothing or props that your Zombie would like to wear or use, bring it on! Grab your brushes and join us in learning how to create fun characters and make-ups for stage, halloween, special events...whatever. A great workshop for Performers and Actors as well as Make-Up Artists!!!
Course Fee: $175, Class Minimum/Maximum: 3/5
Airbrush Basics

This is the "I just got an airbrush and I can't get it to work and it is in pieces that won't go back together and it must be broken" class!
Perfect for those interested in airbrush makeup, but have never picked one up, or can relate to the sentence above. In this fun workshop, we go over all the basics of airbrushing you will need to get you started, including different types of gravity/siphon-feed brushes & compressors, operation of the brush, dismantling, cleaning and reassembling, practice techniques to learn control, types of paint/makeup to use, and more.
If you already have an airbrush, definitely bring with you. If you don't, no worries; we will be happy to provide you with one for the class. Come learn why this is such an important tool in your arsenal.
Course Fee: $175, Class Minimum/Maximum: 3/5
Tooth Denture Casting and Modelling
Learn how to take dental impressions and work with dental acrylics to make false teeth, fangs, denture plates, for theatrical/character use.
Students will create their own impressions, pour up a permanent positive casting of their teeth, and learn how to create various dental appliances on their own model.
Course Fee: $175
Class Minimum/Maximum: 3 participants
3D Wounds, Trauma, Blood & Gore!
Its blood and gore galore as we teach you how to make realistic wounds and blood fx - perfect for Halloween, Stage, Film, or just having fun!
Students will receive instruction on different types of wound fabrications/makeups, and apply various effects "hands-on" to make their own creations.
Topics to be covered include:
Bruises and black eyes / Cuts - Scars - Gashes - Burns
- Attaching and blending the edges of different pre-made wounds
- Use of liquid latex, spirit gum, and prosthetic adhesive, as well as removers
- Use of putty/wax/collodion/gelatin for 3-dimensional effects
- Different types of blood / Blood FX gags for film and stage
This is a really fun session that is great for beginners or anyone who wants to learn more about wound and trauma make-up.
Course fee includes all necessary supplies and kit to take with afterwards.
CLASS Minimum/Maximum: 3/5 STUDENTS
Course Fee: $175, includes all materials
Latex - Free 3D Wounds
Similar to our other 3D Wounds course, but focusing on materials that are all LATEX-FREE. Students will learn
different application techniques for construction makeups using gelatin, putty, collodian, as well as the use of polyvinyl
materials such as 'Watermelon'. As well as application techniques, students will make small 'wound molds' that can be used to produce vinyl/gelatin pieces.
Perfect for those with allergies/sensitivies with latex. Learn how to create realistic 3D effects using products such as Watermelon, Waxes and Gelatin.
Course Fee: $175
Class Minimum/Maximum: 3/5 Participants
Character Makeup
Learn methods and tricks of using theatrical make-up to
create realistic characters for any performing medium.
A great workshop for those just getting into makeup,
as well as a great "brush-up" for those more familiar with
Theatrical Make-Up Applications and Uses.
Workshop fee includes a student kit of Professional Make-Up
Products including foundations/colors/powder/pencil/brush...
Students are welcome to bring their kits or brush rolls and any
make-up products which they have, but it is not necessary as
all materials needed will be provided.
Course Fee: $175
Class Minimum/Maximum: 3/5
Lifecasting Body Parts for
Prop / Art piece Production
Students will learn the techniques of Lifecasting body parts to make molds for reproduction of castings. Great course for any theatre tech student or those going into Special FX!
Students will make their own castings to take away.
Course Fee: $275
Class Minimum/Maximum 3 Students
Prosthetic Application
Student applied makeups on models/each other, utilizing application
techniques demonstrated. (LIMIT 3 Students)
Grab your brushes and join us in learning how to create fun characters and make-ups for stage, halloween, special events...whatever. A great workshop for Performers and Actors as well as Make-Up Artists!!
Course Fee: $150
Class Minimum/Maximum: 3 Students
Prosthetic Application/Running Foam Latex Combo: $225
Running Foam Latex
The mysteries and myths of Foam Latex Revealed!
Students will learn process of running foam in stone and silicone molds. Topics covered include mold preparation, running (whipping) foam, filling molds, baking, demolding, preparing for application. We will also discuss types/fabrication of ovens, materials, etc.
Course Fee: $125
Class Minimum/Maximum: 3 Students
Prosthetic Application/Running Foam Latex Combo: $225
Silicone Mold Making
The mysteries and myths of Silicone Molds Revealed!
Students will learn the process of fabricating single & mult-piece silicone molds from a rigid 3-dimensional object. Great for replicating prop pieces, cosplay armor, almost any rigid object that can be molded & reproduced in resin or a variety of materials.
This workshop will cover information starting with the object, different silicones to use, blocking out to make mold, making both "lay-up" and "poured" molds, demolding & the various products which can be used to make replicate pieces.

Course Fee: $275
Includes all materials. Students may bring own object to make molds of, or we will supply one. Finished molds are students to keep.Class Limit 3 Students
Lifecasting

Part 1: Lifecasting (Head/Shoulders) Tutorial w/ model. This workshop takes students through the process of lifecasting a live model and duplicating a model's bust in stone, the first part in creating prosthetic appliances. This session is a demonstration of techniques and a Q-n-A opportunity in preparation of Part 2.
Part 2: Participants will practice Casting and Pouring Student Casts with each other, with help from the instructor and assistants, so that all will have a life cast (3/4 face cast) of themselves.
(Castings to be used in SCULPTING/MOLDING prosthetics.)
CLASS MINIMUM/MAXIMUM: 3 STUDENTS
This is a popular workshop, so please book early!
Course Fee: $275 (all sections)
Sculpting and Molding for Prosthetics

- Part One: Discussion of process/materials/techniques. Begin prosthetic sculpt. Sculpting head to be taken with student to sculpt in preparation for Part 2.
- Part Two: Review Sculpt w/ instructor – take away to finish/refine sculpt for molding.
- Part Three: Pour up negative mold. Demolding sculpt, clean production mold, preparation for production.

CLASS MINIMUM/MAXIMUM: 3 STUDENTS
Course Fee: $250 (total for all sections)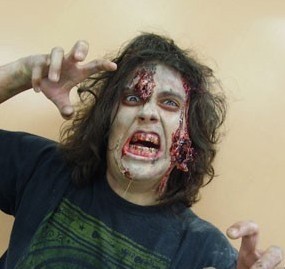 NEW WORKSHOP!!!
Making 3D Transfer Molds
If you have never worked with 3D (Bondo) Transfers, these are Amazing and a Lifesaver for the busy artist! Imagine being able to appy a 3-Dimensional prosthetic appliance that is seamless and 'camera-ready' in minutes!
This is a Two-part workshop that teaches all aspects of creating/applying these transfers. Day 1 will be technical explanations, sculpting appliances, making silicone molds, and filling with prosthetic material. Day 2 will be demolding, how to transfer pieces onto 'water-slide' paper, application, and painting/blending of pieces.
This Two day workshop covers many different aspects/variations of making transfers. These are encapsulated appliances that apply very quickly, easily, and can be used for Film/TV/Stage/Cosplay – almost any application. We use a variety of materials, and students will learn to make both "Silicone-Gel-filled" and "Pros-Aide" appliances, as well as using different encapsulates, to be able to blend pieces with either acetone or 99% Isopropyl Alcohol. Students keep their own molds and appliances created.
Course Fee: $275
Class Minimum/Maximum: 3
Our Current Schedule

July - Aug - Sept
Character Makeup
Sunday, June 25, OR, Sunday, September 3 (pick a date), 3-7pm
Lifecasting (two-part workshop)
Saturday and Sunday, July 8-9, 2-7pm
Sculpting and Molding for Prosthetic Appliances, (three-part workshop)
July 18, 22, and 23, 3-7pm
Running Foam Latex
Sunday, July 30, 11-1pm
Prosthetic Application
Sunday, July 30, 2-6pm
Silicone Mold Making
Saturday, August 5 and Sunday, August 6, 2-7pm (2-part workshop)
3D Wounds, Trauma, Blood & Gore!
Sunday, August 13, 3-7pm
Airbrush Basics
Sunday. August 20, 3-7pm
Lifecasting Body Parts for Prop/Art Piece Production
August 26-27, 2-7pm (2 part workshop)
New! 3D Wounds and Prosthetic Application Intensive
Sunday, September 10, 1-7pm
Click here for a downloadable schedule

A word about workshops with COVID-19 (and anything else):*
Masks are optional. Need to wear one? Great! Don't need to? Great too! Please respect the choices your fellow participants and AEOStaff make regarding this issue.
Makeup and airbrush classes: If you have your own brushes, makeup, and tools, we recommend bringing them. However, it is not required, as we have items you can use for the class. And, yes, sanitation and cleaning techniques will be taught.
Subject to availability, private tutorials can be requested, $75/hour plus materials, as needed.
*Subject to Change without notice.