Please note: In order to concentrate on one of our core businesses, there will be a Halloween Blackout from 15 Sept-8 Nov 2024. We will not accept orders to ship out during this time period. Please plan accordingly. Our Ogre-Line peak ordering times are generally: August-Mid September, November, January-March, May-June

Our AEO artists have been working closely with Mehron, the creators of the official "Ogre Green" makeup for the Broadway Production of "Shrek, The Musical".
We are excited to present the BEST assortment of professional Ogre appliances
on the market at an affordable cost for any size production!
We have outfitted more than 500 Productions of Shrek around the world,
and we look forward to working with you!
Prosthetics may be blended in with our "Ogre Green PAX paint", and the remaining skin painted with Mehron's Ogre Green makeup in either Cremeblend Stick or Fantasy F-X. Our pieces are painted to match the makeup color perfectly, and are durable and comfortable to wear. All appliances may be ordered individually, and in any combination to suit the requirements of your specific production.
All pieces come fully painted and ready to wear/apply. SINCE EACH PIECE IS INDIVIDUALLY MADE, NOT ANY ONE PART IS THE SAME.
The cowls and gloves may be cleaned by rinsing in cool water with a small amount dish soap as needed.
All pieces are priced individually to meet the requirements of each specific production.
(Prices are in USD$ and do not include makeup, adhesives, removers, wigs and S&H.)

THE FINE PRINT
As these items are HANDMADE to order, we generally require 6-8 week leadtime prior to start of tech rehearsal. Therefore, order fulfillment based on availability; first come first served. It is better to finalize the sale sooner than later during peak periods. ALL SALES FINAL. Upon acceptance of the invoice: 50% down, 50% due upon shipping the order via credit card, or payment in full via check. All orders must be paid in full on or before the ship date. We accept POs, however, we DO NOT accept "Payable Upon Receipt" orders. Payments via PayPal, please add 3% to the final total for processing.
Rush fees: 30% of the bill, automatic express shipping, and is subject to current availability. Rush Orders are defined as orders that must be delivered 20 days or less from when the order is finalized/approved and payment or deposit is made.
Shipping via USPS Priority Mail, Priority Mail Express, International Priority* or FedEx Ground or International Priority**. For international orders, buyer is responsible for any additional taxes, duties and/or fees associated with the order.
We reserve the right to restrict order quantities due to production and supply considerations.
Returns solely upon AEOStudios' discretion, restocking fees (10-25%) and return shipping charges may apply.
*Due to USPS/Parcelforce service issues in the UK, effective 4/15/2019, all shipments will be via FedEx International Priority. We may be required to add VAT to your order. We are awaiting instructions as to how to do that. For orders going to China (PRC), we will be using this shipping method for orders being shipped.

**Though FedEx International Priority is more expensive, it is our preferred method of shipping overseas, as it is more reliable with less delivery delays.

Prices current as of 1 January 2022. Prices, terms, and page content subject to change without notice.
Please contact us at any time to see what assortment will work best for you!!!
TO ORDER: Please call our shop during business hours -- (407) 677-8706 -- or email us at aeoinfo@aeostudios.com
OR CLICK HERE TO FILL OUT A BRIEF ENQUIRY FORM

Ogre Cowl
Our "Deluxe Cowl" is the best and easiest to use! The outside is a durable latex skin with the ears attached, and painted in his signature 'Ogre Green'. Inside is soft foam latex baked onto a smooth, 4-way stretch fabric hood. It easily slips over head, and latex edges can be glued down around face. Cowl is built to hold up to the rigors of a stage production, and will last for your run. (They are not suitable for use for additional productions, due to hygenic reasons.)
Add a Foam Latex Shrek Face or Shrek Nose, blend in with PAX and an Ogre Green CreamStick for Instant Shrek! $175
Also available: A slush latex version of the deluxe cowl. It is thick latex with the ears attached. $150
9/15/2021 Update: The Small Cowl in BOTH versions is unavailable until further notice. Our apologies for the inconvenience.
Foam Latex Full Ogre Face
This is a super-soft full-face appliance designed to blend with our cowls, use with a bald cap, or on bald actor. Comes pre-painted.
Apply with Pros-Aide Adhesive and blend in with Ogre Green PAX Paint for the most realistic effect; same method as used on Broadway.
Each face may be used 1-2 times. $100.
Both versions of our cowl are available in Large & Small size. The Large fits most adult males, while the small is perfect for "Shrek Jr." or 'Baby Shrek'
Ogre Male or Female Nose
Slush latex rubber - Sturdy and reuseable.
Apply with Pros-Aide, or Toupee Tape (for quick changes)
3-4 average applications per nose. $25
These come in Large (Male) and Small (Female/Baby)
Foam Latex (Male only). 1-2 uses
(Perfect for Photoshoots/Press Pics) $35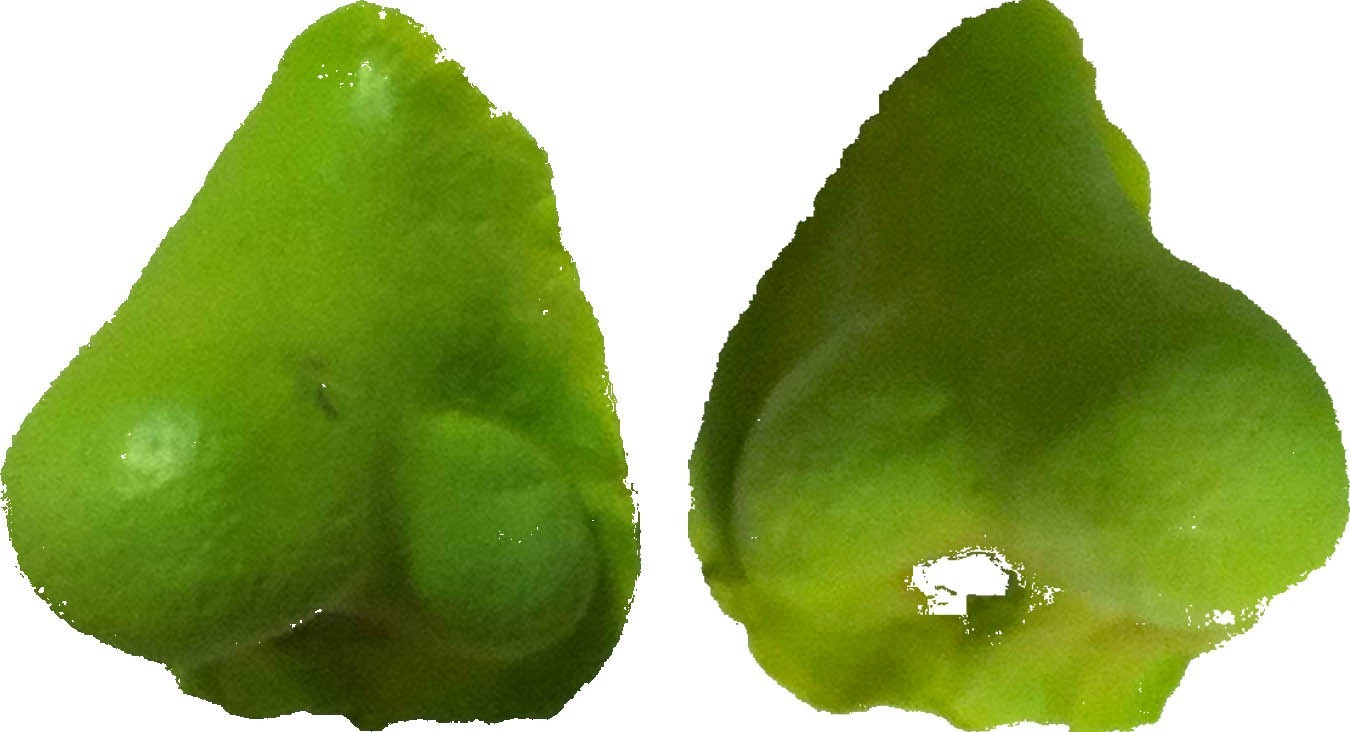 Ogre Gloves
Sturdy latex gloves that will stand up to abuse of a stage production. These are thick latex, but performers can easily function and grasp with them. They are each hand detailed and painted to to look Awesome on stage. Latex is easily cleaned with alcohol. $75/pair
Gloves are available in:
Small (most 'Fionas', 6" wrist)

Medium ('Shrek Jr'/Teen Size, 7" wrist)
Large (Typical Adult Male, 8" wrist)
Ogre Male or Female Ears (aka Shrek or Fiona)
All of our ears have a durable slush latex skin, and filled with soft, sturdy 'polyfoam'. All ears are mounted on lace backing for support, and may be glued to the skin, glued onto a hairband, or easily attached into hair/wig. $40/pair
Unavailable
No longer being produced

Ogre Princess Wig
Auburn in a long thick braid. Braid can be easily disassembled. $25


(Our apologies, we have tried to source the two wigs that we have used in the past (both Smitty's and Lacey's, now Morris Costumes), but they are both hard to find and it is expensive when we are able find one. We will continue to search for another source.)
Mehron's Ogre Green
Cremestick: $13.50
(0.75oz)
Fantasy FX: $4.50
(2oz Tube)
(A lighter, water-based cream - good for 'Family', & 'Fiona'
quick-changes)
PAX Paint, ProsAide, and SuprSolv
This PAX paint is formulated to match perfectly with the official "Ogre Green" Fantasy F-X and Cremestick by Mehron. Perfect for blending edges, and painting onto skin in high abrasion/movement areas.
Must remove with SuprSolv Adhesive Remover. 2oz/$15, 4oz/$26
ProsAide Prosthetic Adhesive: 2oz/$8.50, 4oz/$15, 8oz/$22
SuprSolv Adhesive Remover: 4oz/$6.50, 8oz/$13 (HAZMAT, US Sales only)
Not doing "Shrek" this year?
But, need some unique, specialty prosthetics,
pieces, & props for other shows?
We are happy to work with you to create whatever you need
to make your next production the most incredible it can be!!
Gargoyle cowls for "Hamlet"? Snakes for "The Tempest"?....
Contact us Today to see what we can create for YOU!
Shrek is back!

For late January and February shows, please be prepared to finalize the order BEFORE Winter Break, as January through mid-March is a peak production time.